User talk:Vader
Die? That's not nice :( --Gonzo 16:59, 27 January 2007 (CET)
Logo
Vader, made a logo: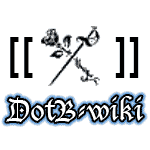 Yeah, implemented.. Also removed the bgimage that looked like i a open book.. i don't appreciate it ;) --Darth Vader 18:40, 27 January 2007 (CET)
nice :) btw, I was thinking, do we have room and bandwidht for the entire Ascalon and Oink series or should I just link them to the extranal images?
Room isn't the problem.. Depends on how many people start using this site. But i already have them stored locally on the forum web server.. I guess it wont be a problem as such, and the line is going to be upgraded soon anyway. Link to images: DotB images. Also i'm gonna announce it on the forums now, so people can start using this site as well. --Darth Vader 20:10, 27 January 2007 (CET)
Add this to editpages?
Can you add these line's to edit page's, like they are on GuildWiki:

Please note:
Please use the Show preview button before saving changes to reduce the number of edits shown in the recent changes list.
On talk/discussion pages, please sign your comment by typing four tildes

(~~~~)

.


--Gonzo 01:33, 28 January 2007 (CET)
I think you can edit that yourself -> MediaWiki:Copyrightwarning2, other than that feel free to browse through the Special:allmessages, it contains all the system messages used (i think) --Darth Vader 02:47, 28 January 2007 (CET)
take a look at this:
Talk:Doli's_Master_Of_Puppets Having some trouble with the image, very weird. --Gonzo 15:05, 29 January 2007 (CET)
Marker

Like it?
Yeah.. looks good ;) i knew i could count on you to come up with something, however it seems a bit big.. Compare it too: http://maps.google.com/mapfiles/marker.png, and i think it might even have to be a bit smaller than the original one.. But i'll put it up for use, and then we can see how it looks. i'll put it in now. Also was pondering to make different ones, one for guild leader, one for officer, one for pirates ? -- Darth Vader talk contribs 16:38, 13 March 2007 (CET)
Now look what you've done :)
You've made some nice lil' char boxes, my main userpage is gonna have to get a nice big overhaul now! :) Blackheart 15:35, 6 October 2007 (CEST)
Can't say i'm sorry i did it... it just seemed the right thing to do for people to keep track of more things than just statistics ;) -- Darth Vader talk contribs 17:40, 6 October 2007 (CEST)
Disable registration?
Hey Vader, how about we disable registration for now? I also made a post in the officer forum about this, but this seemed like a good place too.

Gonzo (talk | stuff) 19:59, 28 August 2009 (UTC)
Yeah.. Disabled, only sysops can create accounts now. -- Darth Vader talk contribs 13:23, 29 August 2009 (UTC)